​​​​​​​
H3C S5560S-EI Switch Series is robust (modular dual power), and easy to deploy Layer 3 access switching solution that offers enhanced security and 10GbE uplinks, BGP and Multicast, SDN and IRF enabled, flexible management.
It offers the following benefits:
- Rich layer 3 features with H3C's state-of-the-art Comware 7 operating system.
- Reliable hardware design with modular dual power supply.
- Embedded SmartMC delivers the easiest and simplest network operation and management solution.
- High-density 10/100/1000Base-T auto sensing Ethernet ports and GE/10GE SFP + fiber ports onboard
As an access device on enterprise networks, this switch can provide high-density GE connections for desktop applications.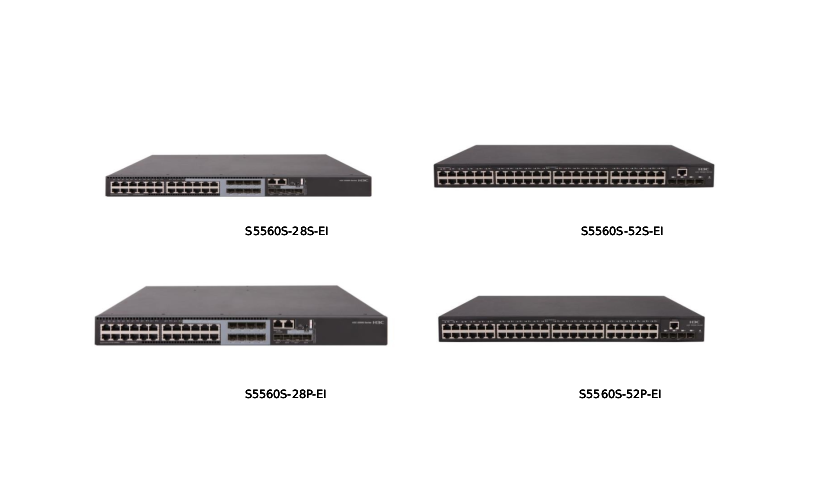 Features and benefits
- Intelligent Resilient Framework 2 (IRF2)
- Intelligent Resilient Framework 3.1 (IRF 3.1)
- Smart Management Center (SmartMC)
- Software-defined networking
- High availability
- Abundant QoS features
- Outstanding management capacity
H3C 1850 Switch Series
H3C 1850 Switch Series consists of advanced smart-managed fixed-configuration Gigabit switches designed for small businesses in an easy-to-administer solution. By utilizing the latest design in silicon technology, this series is one of the most power efficient in the market.
S1850 series has 4 models: three non-PoE models and one PoE+ model. All models are equipped with additional Gigabit SFP ports for fiber connectivity.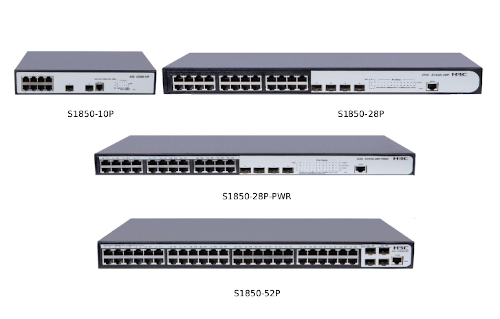 The series is part of the portfolio of H3C small business networking products. These switches provide a great value, and includes features to satisfy even the most advanced small business networks. All models support rack mounting or desktop operation. Customizable features include basic Layer 2 features like VLANs and link aggregation, as well as advanced features such as Layer 3 static routing, IPv6, ACLs, and Spanning Tree Protocols.